Hey There -
Zach here from The Underground Strength Gym in NJ.
Thanks for stopping by and props to you for seeing what The Underground Inner Circle Is All About.
This is a place of WORK, make NO mistake about it.
No Bull Shyt.
No Hype.
No Fancy Fads or Gimmicks.
Everything I put into this site is about ensuring that you get kick ass Results. Period.
If you're tired of shopping around for the magic bullet and empty promises then you've come to the right place IF you are ready to do work.
As a member of The Underground Inner Circle you'll get EVERY training article, special report and unreleased video footage dating back to 2005.
You're getting an exclusive insider access to everything that goes down at The Underground, both in AND out of the gym.
You will also gain access to the following Training Courses along with NEW Monthly Workouts To Follow Plus Tons More (Non Members have to purchase each training course, YOU get them as part of your Inner Circle Membership):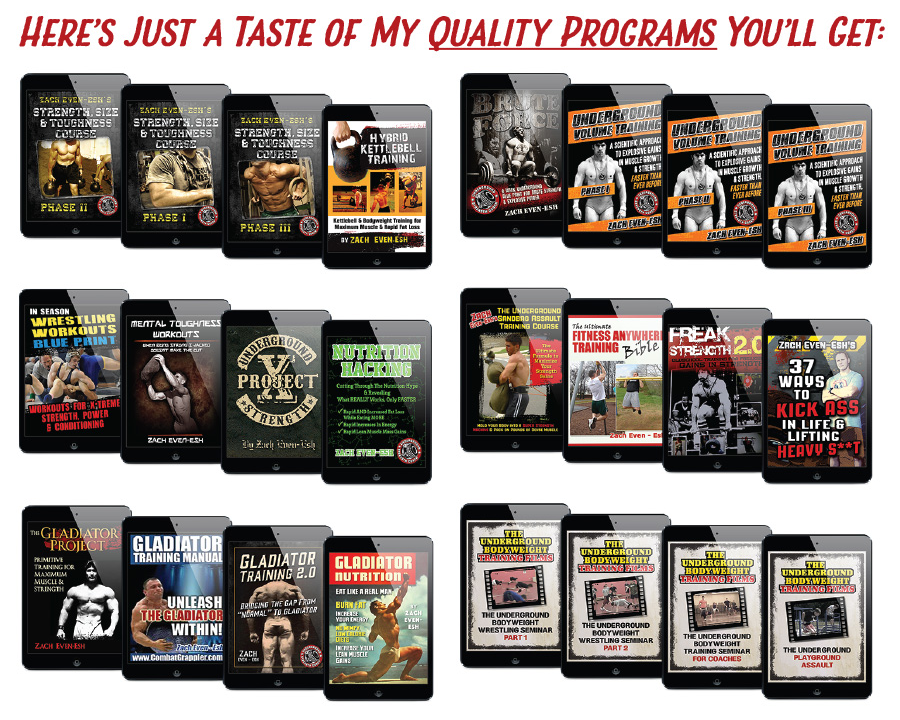 These training courses are just the tip of the iceberg.
With 2407 Access to me via our Members Only Forum you can ask me any questions on training, life, business or whatever else you need help with.
Private coaching with me is something I do for very few people and it comes at a hefty price tag. $250 per hour is the minimum.
This is your opportunity to connect with me and get coaching from me at a HUGE discount.
If you're tired of being confused on how to get strong, how to pack on muscle, how to lift for serious gains....
If you're ready for the TRUTH and serious about bettering yourself in Mind and Body, then The Underground Inner Circle is for you.
Sign up below and you'll be given immediate access to ALL of our training courses, our private members forum and 2407 access to me.
You're never locked in to your membership and you can cancel anytime. But I assure you that you'll love the regular updates and all the information that you'll quickly realize this was the best damn investment you ever made in yourself.
See you on the other side.
Live The Code: Honesty, Integrity, Commitment, Work Ethic
--Z--
PS: Remember, you can cancel your membership at any time and once you become a member you'll have access to ALL our training courses, special reports, videos and 24-7 access to me.
To place a value on ALL the information in our Underground Strength Inner Circle would be impossible.
Sign Up Below and I'll see you on the other side. Time to Kick Ass & Take names!