| | |
| --- | --- |
| home | About Underground Inner Circle | |
What's Inside The Underground Inner Circle For You?
Welcome to the REAL Underground Strength Revolution.

My name is Zach Even - Esh. I'm a former wrestler and bodybuilder turned Strength Coach. I run the Underground Strength Gym which started from my parents backyard & garage in 2002. Today I have 2 locations in NJ and several times a year Coaches travel from all around the world to learn The Underground Strength System.

Both of my Underground Strength Gym locations see anywhere from 40 - 80 athletes every day, ranging from the youth level through college, Olympic hopefuls, Military & LEO. I've authored the best selling book, The Encyclopedia of Underground Strength & Conditioning as well as worked with several Division 1 Wrestling Teams.

I've helped hundreds of athletes achieve All Area, All State, All American, State Championships, National Titles & Olympic Hopefuls competing internationally. Coaches fly in to NJ several times a year for my Underground Strength Coach Certification to learn my methods of transforming ordinary athletes into dominant forces in their chosen arena of sports.

I've been training since 1989 and my vast experience in training has led to my my inspiration of creating an unconventional system of training that has been changing lives through STRENGTH since 2002.

Helping others LIVE a STRONG Life is what I live, breathe and bleed.
Training has literally saved my life, pulling me out of depression from my younger years and giving me direction and a passion to live for.
If you train the right way, it can change your life as well. Training against the norm that you see in typical globo gyms (lying down, using all machines, pretty boy bodybuilding workouts are avoided here).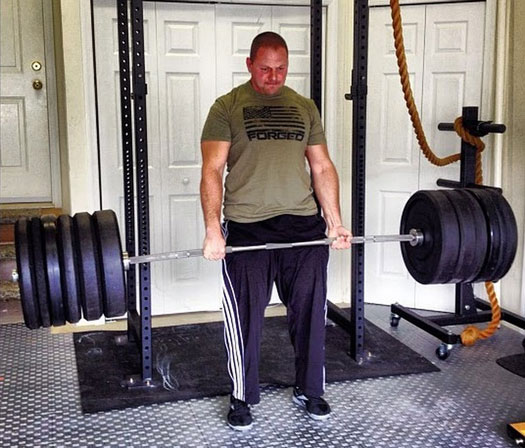 Training against the norm develops strength in mind, body and spirit. You develop strength for Life. A type of Strength that gives you the power to overcome life's obstacles and to kick ass in ALL areas of your life, NOT just the gym. That doesn't happen when you follow conventional, pretty boy training methods that you see everyone else doing at the gym.
Since the internet has no filter, it's disappointing to see the confusing amount of info out there promising results through short cuts, fads and gimmicks. You won't find any of that bull shit here. NO lies, no fads, no gimmicks, just the straight up truth on what it takes to kick ass and take names in life and lifting.
That's what The Underground Strength Inner Circle is all about; A place to learn from my 26 + years of experience along with other like minded lifters, athletes and coaches who share the same passion for life and lifting.
I update this site every month with new training programs, special reports, life success strategies and powerful behind the scenes video footage never shared elsewhere.
Everyday, you will have access to me via our private members forum, 24-7-365.
Nowhere else can you connect with me at this level. If you want boring, pretty boy training, go elsewhere. I have no desire to be like the other "coaches" offering short cuts and gimmicks, tricking you into the easy road to success. Success doesn't come easy. If you want to succeed, this is your opportunity to have me as your Coach along with the support of hundreds of other hard charging lifters.
If you're looking for the REAL training that delivers results to help you Dominate in AND out of the gym, then look no further and I welcome you to the brotherhood.
See you on the inside.
Live The Code 365
Honor, Integrity, Commitment & Work Ethic

--Z--